Why I love THIS particular hat?
Be Daring
For this unusual piece of accessory you probably need to have a bit of courage, a dash of extravagance, and a desire to be noticed. And, trust me, when you walk around with this baby on your head – you will be!
I could count many reasons why I love this hat immensely, but I'll share some of the most important ones here with you.
This Hat is Unique
Many of  my friends and acquaintances want to be unique and one of a kind. I'm no exception either. This may be the most important reason why the patchwork hat is my summer favourite. In the sea of fabricated beauties with alike hairstyles, clothes, purses, and nowadays even the same faces, I wish to do my thing and be ME. If you think in a similar way, then this hat really is for you.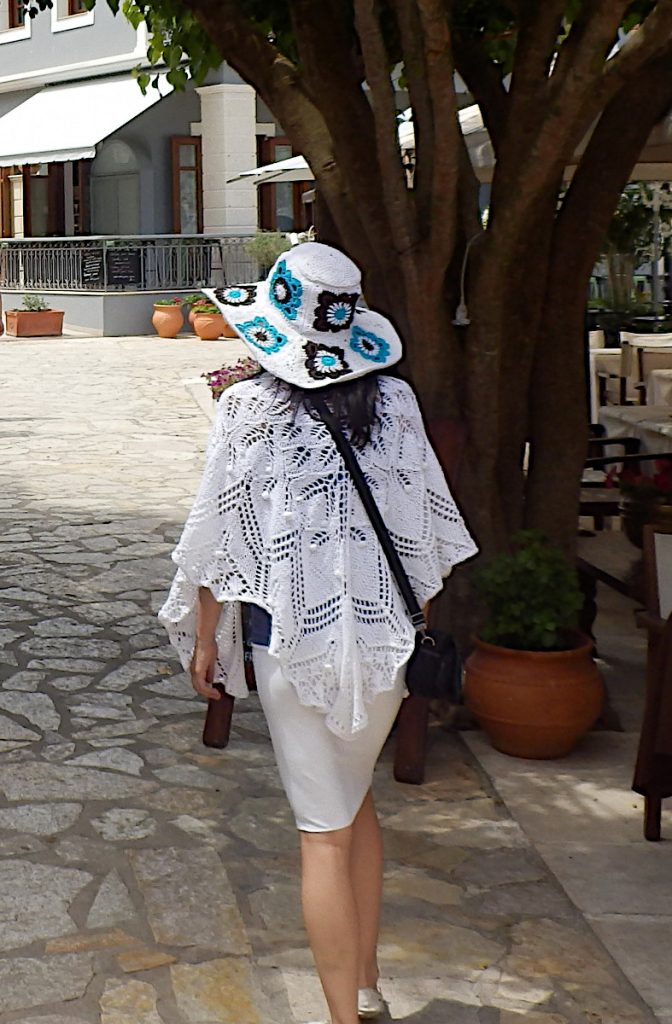 Everyone will make comments, you WILL be noticed
How do you feel when you receive a compliment? Or when they ask you: "Where did you buy that?" I always glow, feel proud and experience the confirmation of value when someone appreciates the same thing as me. Good taste, especially in extravagance, never goes without reactions and impressions. 
The place where I wore this sun hat for the first time, was a magical resort in Greece, the island of Kefalonia. There, in a town named Fiscardo on the north, during just one stroll, I experienced more curious looks (and a few actual questions about it) than on all my holidays together. I'm not an extravagant type of woman who is eager to be in the limelight, but I guess, for a short time, I did become a person longing for some attention, and I enjoyed that change completely as long as it existed in me. After all, we can all turn into someone else when in new environment, especially on vacation, far from routines, and when we are dying for some luxury, and pampering ourselves.
Wide Brim – Excellent Protection from the Sun
When we go to the seaside, we all want to get as much sunbathing as possible and tan beautifully. Nevertheless, in bright noon sunlight you are bound to wish for some cover-up for your head and shoulders, at least in the first few days of your summer vacation, until the skin and body get accustomed to the heat. You will protect your skin with a sunscreen, but they haven't invented such lotion for the head yet! Because of that a wide brim hat is a must have, especially for us ??? with dark hair. If you also like visiting landmarks while on holiday, which mean a whole day excursion in scorching July or August day, then your dilemma about picking the right head accessory is resolved!
What's Patchwork for Anyway, if not to Use Leftover Yarn?
If you're like me, then there's no doubt you have dozens or maybe even hundreds of balls of yarn that you don't know how to use, but feel sorry to get rid of. Why not make a few of these hats and match the colours with all the bikinis you own? This hat proposes 3 different colours, but you can, of course, use 1, combine 2, 3 or 10 colours, in your own preferrence.
The Brim of a Hat Can Be Really Firm
I assure you that you yourself  can make this hat very stiff with the help of just one piece of wire and ONE ingredient that we all have in the house – sugar! Starching and firming of this piece is really simple, and for that you'll need a little water and a spray bottle. The hat itself is light and airy, but the wide brim stands just about perfectly.
A Loving Memory
Kefalonia is the perfect place for rest and enjoyment. Apart from forests filled with pointed cypress trees, flocks of sheep and goats, marble white beaches and crystal clear water, this is a unique place where you can try buffalo milk ice-cream. The exceptional impressions that this hat has left me is also getting to know several remarkable people who we made friends with. No summer holiday, either before or after, brought new acquaintance which exists after the holiday was over, like our beloved "Kefa" did.
In the next post you will learn how to crochet the square motif for Fiscardo Patchwork Hat. General description about making the whole hat will also be published in one of the next articles, and it is intended to more experienced crocheters, as well all you creative people who like to experiment with your skills. If you would like to have a detailed tutorial, you can get it at a price of 5 EUR on sites Ravelry and LoveCrafts.